Sailing round Britain and Ireland with Tuimelaar
(extract of Dutch part of the website)
In the year of my 50th birthday I had the opportunity to take-up a sabbatical leave. With the help of my family it was my chance to fulfil a longstanding dream: going out to sea and making a singlehanded trip of several months. But what I needed first was an appropriate yacht. I needed a boat with proven and guaranteed quality, strength and reliability. But I also wanted a well performing boat, a great sailer and possibly a racer. X-41 One Design met all these criteria. It is one of the fastest production boats of this size on the market and on top of that: it accommodates my family of six.
I took delivery of my X-41 "Tuimelaar" at the end of March 2009 and this gave me five weeks to prepare for the trip. Apart from the standard outfit, X-Yachts Holland had gone out of its way to fulfil all my additional requirements relating to single-handed sailing, to electronic equipment, communications, safety and even comfort. They had done a good job, respecting the lightweight concept of the X-41 and its racy appearance, but at the same time fitting everything in that I believed I needed to have on board. And mind you, for safety reasons I needed to have a back-up for almost everything I had on board. Just a quick look at my shopping list: all the electronic navigation equipment, consisting of a full B&G Hercules system with B&G autopilot and a board computer that integrates all the information, including AIS, Navtex and radar feed in the Nobeltec plotter software, but also all the paper-maps, an extra hand-held gps, a built-in VHF and an extra handheld VHF, an Iridium satellite telephone and access for the board computer to the 3G internet network (where available), an inflatable dinghy and an outboard engine, storm sails, a parachute anchor with 220 meters of warp, a life raft, an EPIRB, an oversized Rocna anchor with 50 meters chain lead through a windlass (which is an exception on this racer), and an oversized Bruce anchor with 50 meters of warp; a detachable radardome, a heating system, hot water boiler and a refrigerator. Let me stop here and not mention all the sailing gear and personal stuff needed to live and sleep on board with the whole family, which was going to join me for two weeks in the middle of the summer. I filled up the water tank and two additional jerry cans with water. I filled up the fuel tank and an additional jerry can with diesel fuel.
And finally, on 2 May 2009 I was ready to sail from IJmuiden, the seaport closest to Amsterdam.
The first leg was a 410 nautical miles (nm) distance to Dartmouth, at the southwestern coast of England. Although I had been an enthusiastic sailor during my younger years, I hadn't been out on sea for almost 20 years and I had never owned a yacht, nor had I ever done any singlehanded sailing. So I didn't consider it a bad idea when a friend offered to join me on this first leg, specifically since it would involve crossing the Dover Strait and the very busy traffic lanes of the southern Northsea. We had a great time together, sailing upwind in force 5 to 6 for 69 hours and clocking almost 550 nm on the log to reach destination Dartmouth. And it was quite rewarding to sail up the River Dart and to be welcomed by two marina stewards in red uniform at the rather upmarket Dart Marina. We had deserved it.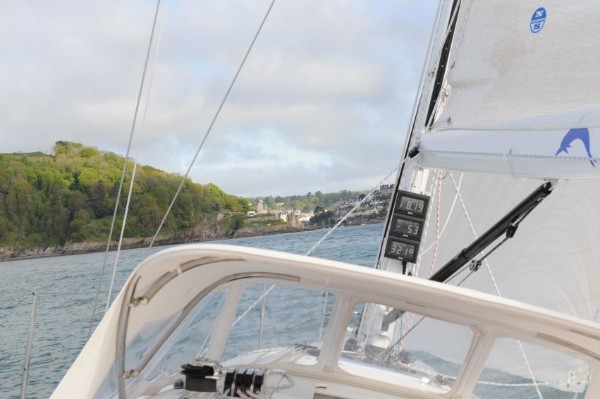 [Tuimelaar sailing up River Dart after 69 hours at sea. Note the speed of 8.19 knots.]
On the way to Dartmouth we had learned how Tuimelaar behaves in waves. I consider her to be a big surfboard, which is evident when you see a picture of the underwater ship. It's just a flat board with a very deep keel, giving her enormous stability in big waves and winds. But sailing upwind in waves you will feel her flat bottom hitting the waves hard and I guess this is the price you have to pay for the speed she gives you. We had sailed in winds up to 33 knots (apparent). We would reef down to the first reef at around 23 knots and to the second reef (reducing the main to 30% of its size) at around 32 knots. I learned from North Sails that this was stretching it a little bit too much. I should use the second reef at around 25 knots of wind.
The next stop was at the Isles of Scilly, which took me another 31 hours of upwind sailing. I had sailed past these islands in 1981 while crewing on a Swan 36 in the 1981 Fastnet Race. And since that time I had always been attracted to those remote islands, which were famous for the many shipwrecks that occurred in their surrounding waters, full of reefs and unexpected rocks. I greatly enjoyed seeing Tuimelaar floating gently amid the reefs in Porth Cressa bay on the isle of St. Mary.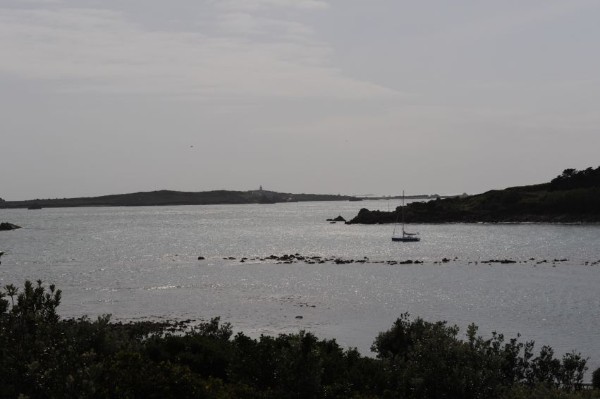 [Tuimelaar in Porth Cressa bay on the isle St. Mary, Isles of Scilly]
The next leg was the crossing of the Celtic Sea, in fact a 150 nm crossing of a part of the Atlantic Ocean, which I had been looking forward to, albeit it with much respect and many fears, having crossed this sea in 1981 and having been close to crewmembers who had experienced this sea during the notorious Fastnet Race of 1979. But this time it was an extremely uneventful, and even boring crossing, in little wind (force 3 to 4), and in a drizzle. My low spirit got a boost when I approached Cork harbour in the morning after 21 hours of sailing: some big dolphins broke out of the water next to Tuimelaar, and swam with her for half a mile or so. One of them even wanted to make fun with her and gave her a bump, which I could clearly feel rumbling through the ship.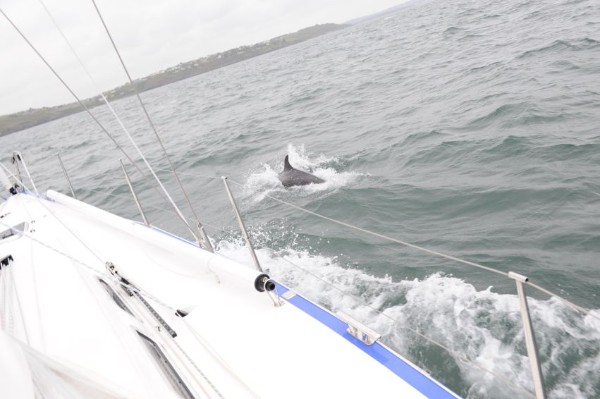 [Dolphin next to Tuimelaar]
The south and southwestern part of Ireland proved to be very attractive sailing and cruising grounds and I had a great time exploring the many small harbours and creeks. And out on sea I considered it an achievement to round Fastnet Rock for the second time in my life.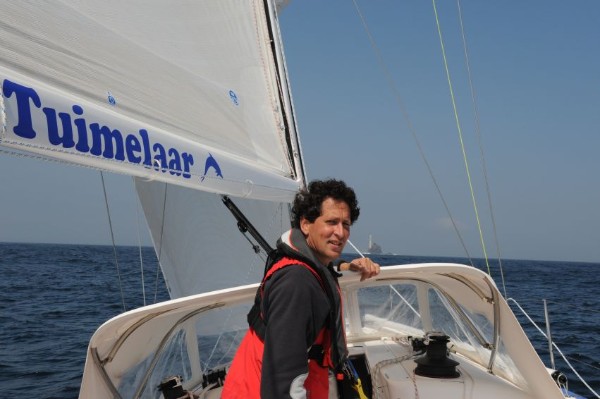 [Happy skipper approaching Fastnet Rock]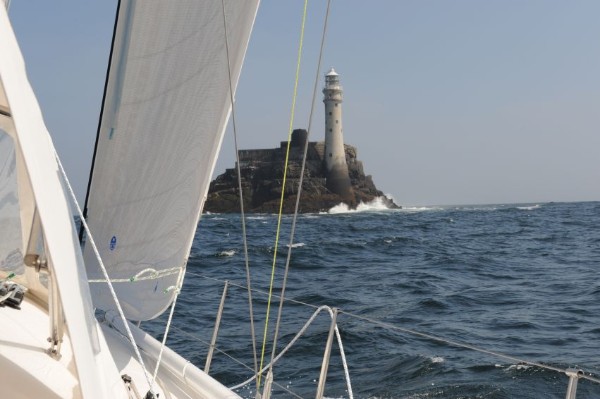 [Tuimelaar approaching Fastnet Rock]
Even on board a lightweight racer, one shouldn't forget about the good things in life, among which fresh seafood and a good glass of wine from time to time. Let's face it, I wasn't going for a record breaking leg in the Volvo Ocean Race. I was just doing this to have a good time, to enjoy some great sailing and to enjoy remote and rarely visited land- and seascapes. So when I found myself moored next to a fisherman,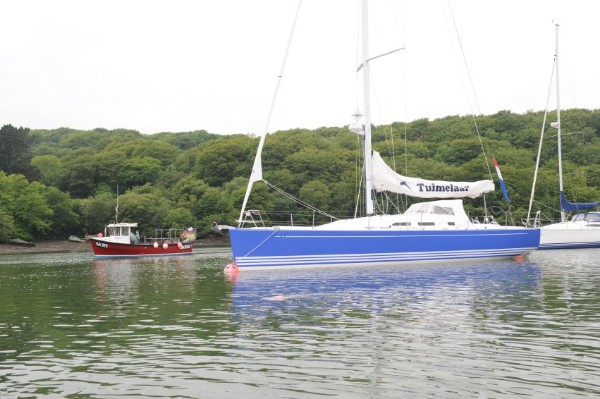 [Tuimelaar next to fisherman in Castletownshend]
which I had just seen checking his lobsterpots out on sea, it didn't take much convincing to land a lobster on Tuimelaar's deck, where it had time to live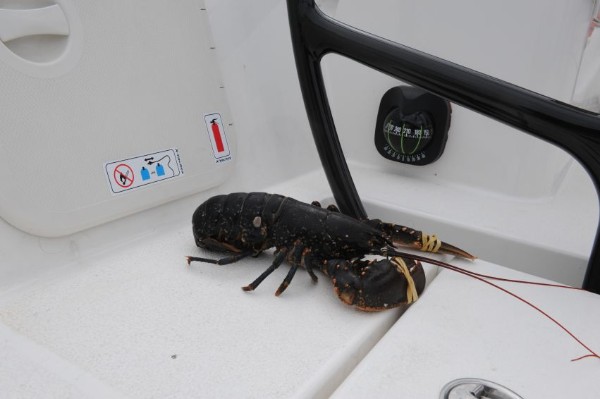 [Live lobster]
and die.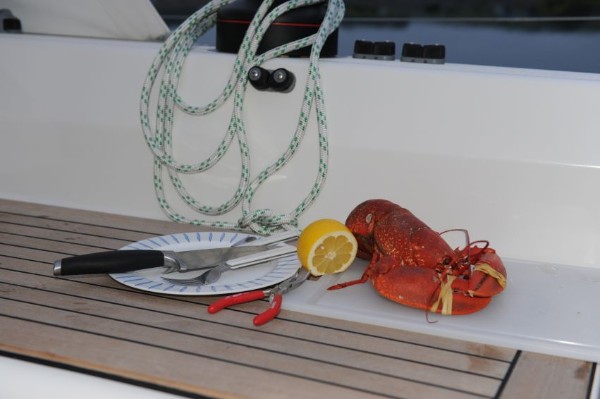 [Lobster delicacy]
I hadn't decided yet whether to sail a "round Britain" tour, or a "round Britain and Ireland" tour, but gradually I got infected by a wish to sail along the west coast of Ireland and to face the real Atlantic. The villages I visited became smaller and smaller and provisioning became harder, if not impossible. It was also hard to obtain the paper maps of this area (I hadn't prepared for this part of the trip) and after some asking around in one of the small villages I was invited in the backroom of a bar, where the owner sold me some 25 year old maps (at an appropriate discount!).
And then I needed to move on, up north, crossing the beautiful Blasket Sound in solitude at the end of a quiet day sailing.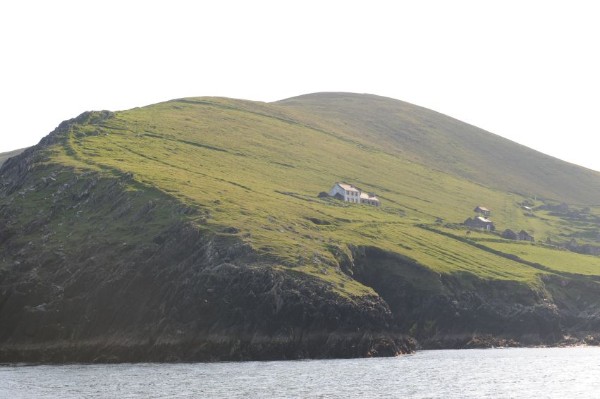 [Great Blasket Island]
Up from Smerwick Harbour in two legs of about 30 hours until I rounded Bloody Foreland, the northwestern cape of Ireland and so named because of the red hue that the setting sun casts on the rocks. On my way in the ocean, I had seen a small whale, I had been accompanied for many hours by a large herd of dolphins, and I had almost hit upon a 6 meter long basking shark, that lay threateningly quiet just below the surface of the water, with its triangular black fins sticking in the air. Although this was a "JAWS"-like experience, I learned about this shark that it can become very big (up to 12 meters), but that it is a friendly animal that feeds on plankton. Sailing this part of the trip was a lonely experience. I sailed away from the shore up to a hundred miles distance and even when I neared the shore again it was inaccessible and unapproachable.
I left Tuimelaar in Lough Swilly, close to Londonderry and returned to her a week later to head for Scotland. With a daytrip of sailing I reached the island Islay, where three friends would join me for a long weekend.
Together we made a beautiful trip to the island Jura, of which it is said that the ratio deer to man is 25 to 1. There are 5,000 deer. Both species kept themselves hidden during our visit. Through an ingenious and probably age old system of leading lines (with white stones on the beaches and hills ashore), we were able to negotiate our way through the reefs deep into Loch Tarbert, in the middle of Jura. We anchored here and organised a small expedition into the hills.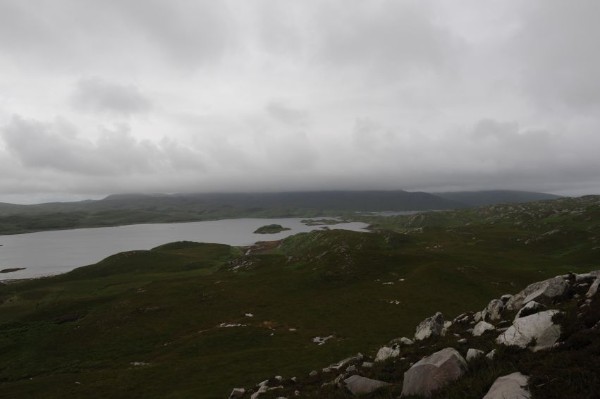 [Tuimelaar just a dot in Loch Tarbert, Jura]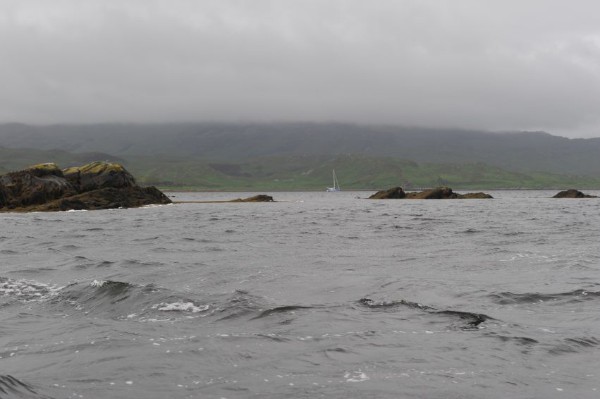 [Tuimelaar in Loch Tarbert, Jura]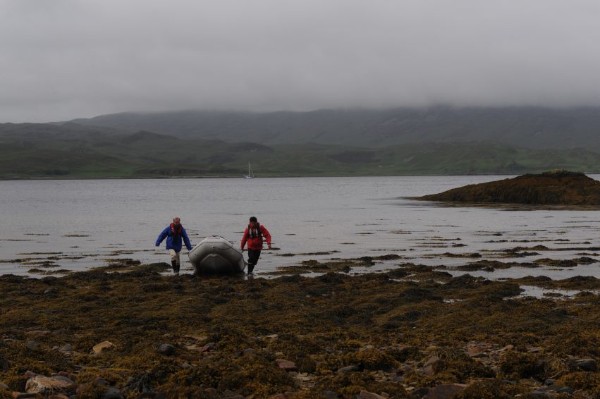 [Expedition in Loch Tarbert]
On our way back, before boarding the dinghy, we found ourselves wading through masses of mussels, which were crying to be relieved from their sorry state amid the seaweeds. With the help of some carrots, leek and onions, it didn't take our chef long to prepare a lovely lunch. We toasted in the name of X-Yachts Holland, which had supported me all the way with sound advice and spare parts where needed.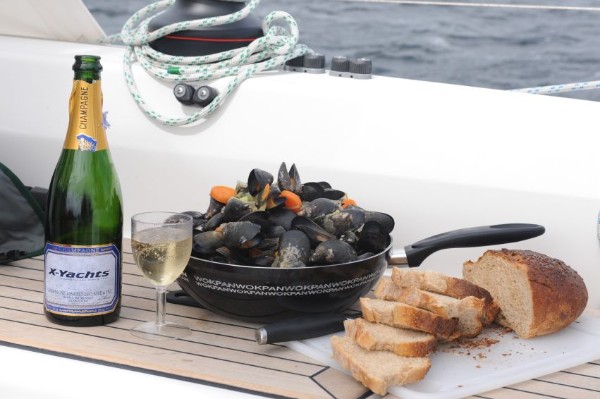 [Toasting to X-Yachts]
When my friends left a couple of days later, the whole area was covered in thick fog. The circumstances forced me into a thrilling adventure, sailing through the notorious North Channel and rounding the Mull of Kyntire almost without being able to see the bow of my own boat! This brought me into the Firth of Clyde area, and away from the open sea. And it was here that we would spend some lovely two weeks with the family. We visited Holy Island, an Island now owned by a Buddhist community and made a beautiful hike up its 750 feet steep hills.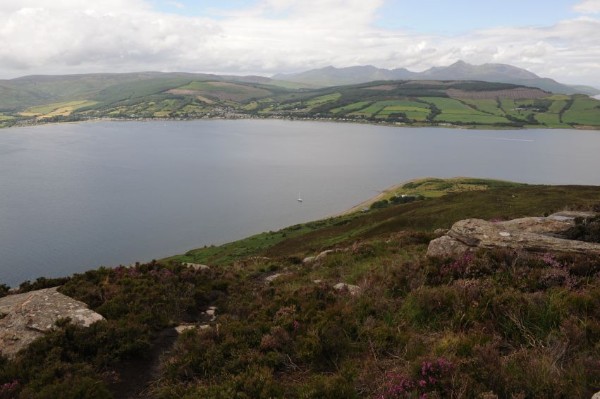 [Holy Island, Tuimelaar at anchor]
We tried to discover the skeleton remains of the 3,500 year old "Queen of the Inch" on the Island Inchmarnock (couldn't find her, she was out on a trip to an Edinburgh museum) and found a rock full of seals instead.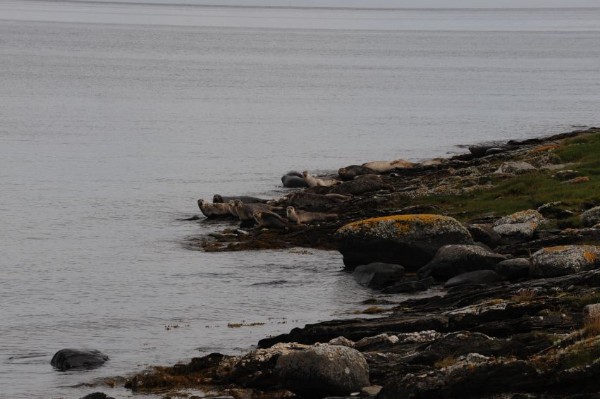 [Seals on the coast at Inchmarnock]
We visited the Island of Bute and conquered the castle of the Marquess of Bute from the waterside. We even sailed all the way up Loch Fyne into the Highlands and were guests of the Duke of Argyll in the town of Inveraray, when he opened his estate to the public for the annual Highland Games.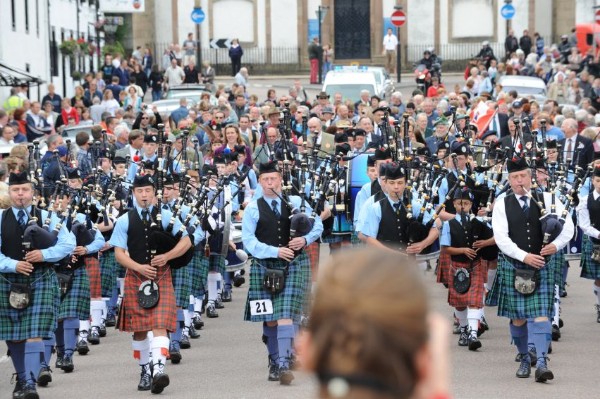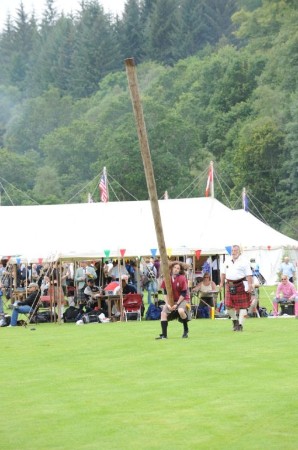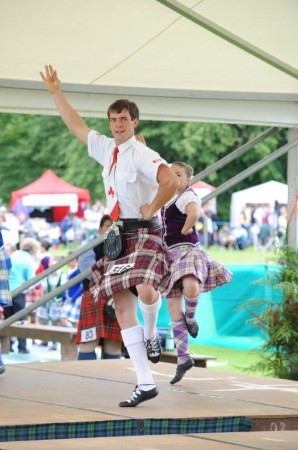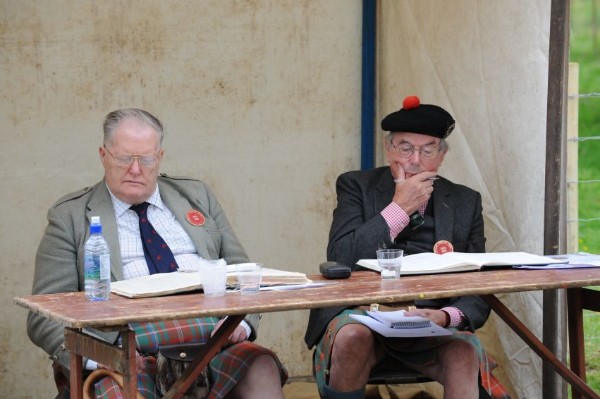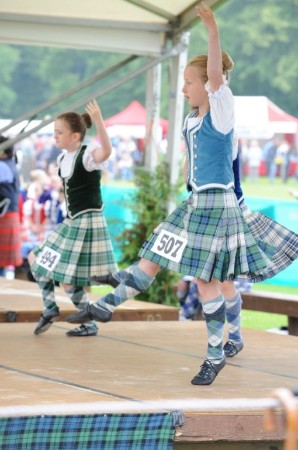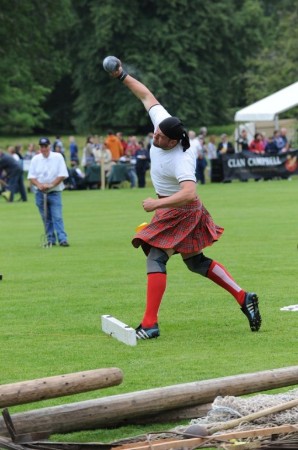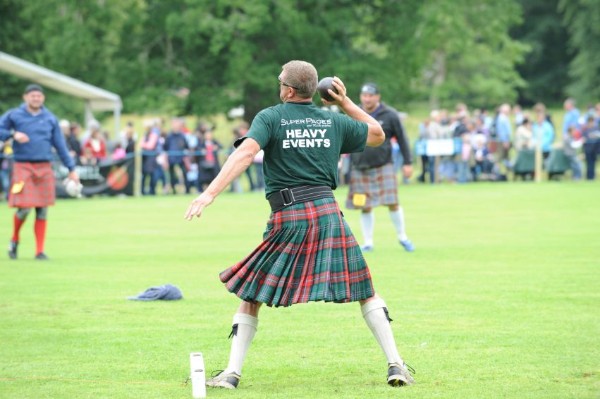 [Highland Games, Inveraray Castle]
And we ended our holiday by sailing Tuimelaar through the Crinan Canal, a 14 kilometers long canal, dug through the mainland of Scotland around 1800, with 15 locks, almost all to be operated manually by the ships crew. The canal is now a listed monument providing a scenic trip through the countryside.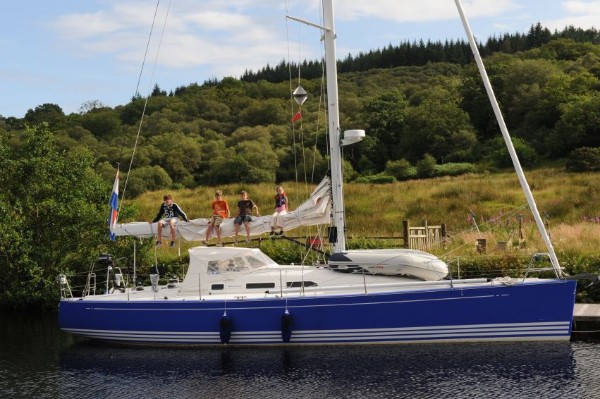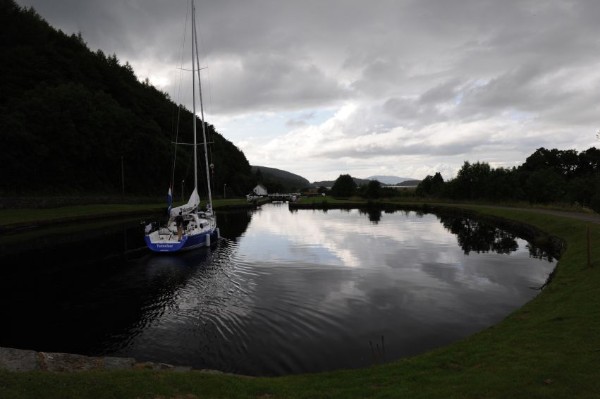 [Crinan Canal]
And this brought Tuimelaar back to the open sea at Crinan, just opposite Jura, where I left her on a mooring for a month. I returned in the last week of August for the final two weeks of my trip, which would bring her back to Holland and which proved to be more exciting than I could have hoped for.
I made my way north through the Sound of Mull, running with the tide for up to eight hours.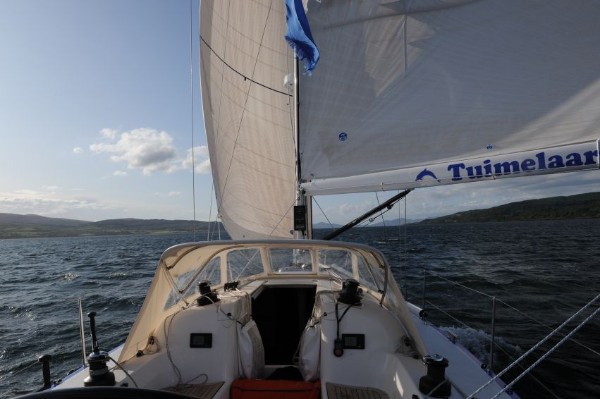 [Sound of Mull]
I had a particularly exciting time sailing downwind to the isle of Rum. The apparent windspeed was about 25 to 30 knots, which meant a true windspeed of 30 to 35 knots, force 7 to 8. With a double reef and the jib rolled in for one third, Tuimelaar made good progress. But the autopilot had difficulty dealing with the rolling waves of up to three meters and Tuimelaar regularly turned its bow halfwind, which became dangerous with the waves building up. I excused myself towards the autopilot and politely took over the wheel. This brought some stability on board and with a speed of 11 knots we surfed down the waves. I didn't dare to gibe, being afraid that the blow of the boom could damage the mast, or worse, throw it overboard, so I turned Tuimelaar's head in the wind. This made the apparent windforce increase well above 35 knots and I tacked with Tuimelaar jumping up and down the waves like a small dinghy and myself jumping around the cockpit like an acrobat to get all the lines cleared. I sailed into Loch Scresort at Rum with full speed and dropped the sails and the anchor, just to discover that I was blown out of the loch with almost the same speed. I had to clean and drop the anchor two more times before the anchor found hard bottom in between the weeds. The gale blew on relentlessly, with squalls falling down the mountains into the loch. But now that the anchor found its place no gale could move it and I felt comfortable leaving Tuimelaar at anchor to make a beautiful hike on the island and to have a look at the extravagant Kinloch Castle, built in 1900 by the heir of a cotton baron and now in desperate need of repair.
The next day I dropped anchor in a most secluded pool at the bottom of the Cullin Mountains on the island Skye. From the pool, Loch na Cuilce, one looks high up the steep granite mountain slopes. The weather was awful, the rain pouring down continuously, but I had a great time sitting on deck at ten meters distance from the seals that were abundantly present in the little loch.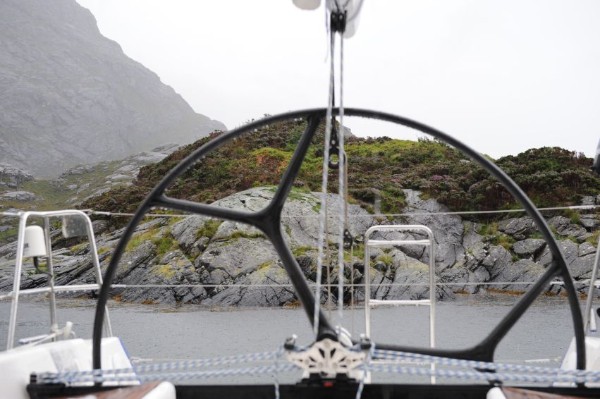 [Tuimelaar in Loch na Cuilce, Skye]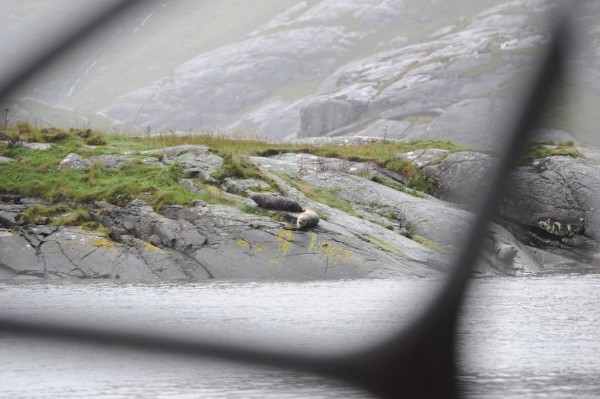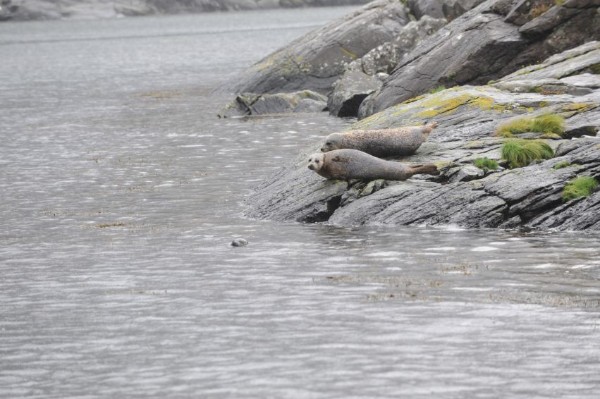 [Seals in Loch na Cuilce, Skye]
And everywhere around me the water was running down the granite slopes in torrents.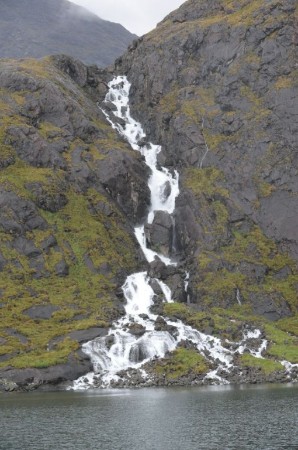 [Torrents running down the Cullin Mountains, Skye]
I met my brother-in-law on the island Scalpay in the outer Hebrides and for the next four days we sailed together around north Scotland, rounding Cape Wrath – Scotland's northwesterly cape - in a full gale and navigating through the heavy races of the Pentland Firth – at Scotland's northeasterly end. Tuimelaar handled it all quite well – with speeds up to 15 knots. But the strain on its rig during the rounding of Cape Wrath was enormous. Standing at the wheel and being lifted by the four to five meter high ocean waves one could feel the hull tremble and rumble and fight for its mere existence. But we survived, as we should, knowing that Tuimelaar should be able to withstand a force 10 storm.
After my brother-in-law left me, I came to know that this had only been a taste of what was in store for me. I left the northern town of Wick – at approximately the same latitude as the Norwegian town Stavanger – at 5 pm on Monday 31 August heading for my port of departure IJmuiden, 400 miles south. I would never arrive there, but instead was towed into Den Helder harbour, 40 miles north of IJmuiden, by the Dutch rescue service, at midnight on Thursday 2 September. In between, Tuimelaar resisted a gale force 9 at Doggersbank on Wednesday and sailed for the Dutch coast in gale force 8 on Thursday. But when I discovered on Thursday night that I couldn't run the engine because of a fishing tackle in the propeller, I had to call Den Helder Rescue at the VHF and ask for assistance to get Tuimelaar safely ashore. The lifeboat met me in a wild sea 10 miles outside of Den Helder to accompany me to more quiet waters. They stayed behind me for almost an hour, with their searchlight on Tuimelaar. Afterwards they told me they saw no reason not to let me sail on my own. "You were showing us some robust sailing and it was a great sight." Once around the cape two men jumped on board with a jump that would make a leopard jealous. A towing line was fixed and Tuimelaar thus ended its 2,800 nm voyage around Britain and Ireland in the Den Helder marina.